Listeriosis is an illness caused by eating food contaminated with Listeria monocytogenes. If two or more people are sickened by genetically identical strains of the bacteria, there is an outbreak. Below are 10 of the most recent outbreaks. If you think you or a family member are part of a Listeria outbreak, contact our attorneys for a 100% free consultation to determine if you have a case. Food safety attorney Eric Hageman leads a team of lawyers that help clients affected by Listeria food poisoning.
Recent Multi-state Listeria Outbreaks:
1. HMC Peaches, Plums, and Nectarines
Listeria contaminated Peaches, plums, and nectarines that were sold at Sam's Club and Albertsons stores led to at least 11 people becoming seriously sick, one death and a dangerous preterm labor occurring in a pregnant mother.
2. Frugals Milkshakes Linked to Tacoma, Washington Listeria Outbreak
At least six hospitalizations and three deaths have been linked to a Tacoma, Washington Frugals restaurant milkshake machine that was contaminated with Listeria and improperly cleaned. The machine was in use until August 8th, 2023 and Listeria infections can take up to 70 days to show symptoms, so more illnesses may follow.
3. Real Kosher Brand Soft Serve On The Go Ice Cream Recall
A Listeria outbreak that includes at least two people has prompted the recall of Soft Serve On The Go ice cream and sorbet cups sold at multiple grocery and convivence stores, as well as long-term care facilities, nursing homes, schools, camps and other locations in 20 states.
4. Revolution Farms Lettuce and Salad Kits
Michigan-based Revolution Farms has recalled all lettuce and salad kits sold under the Revolution Farms brand name. These products have been linked to a multi-state Listeriosis outbreak. A list of affected products and stores can be found here.
5. Listeria Outbreak with Unknown Source
Using the national database of DNA "fingerprints" of bacteria that caused a foodborne illness, called PulseNet, the Centers for Disease Control and Prevention (CDC) has discovered a Listeria outbreak that began in 2018. The 10-state outbreak includes 18 illnesses and 17 hospitalizations that occurred between July 3, 2018, to March 31, 2023.
6. Utopia Enoki Mushroom Listeria Outbreak
Two brands of enoki mushrooms grown in China have been recalled in connection with a Listeria outbreak that includes serious illnesses. Utopia brand enoki mushrooms and Sun Hong Foods Inc. were recalled after genetic testing showed they were contaminated with the same strains of Listeria that have caused illnesses. This is the second time that enoki mushrooms distributed by Sun Hong Foods have been linked to a Listeria outbreak.
7. Deli Meat and Cheese Sold at NetCost, other stores
Deli meat and cheese sold at NetCost and other stores has been linked to a deadly Listeria outbreak. The outbreak includes 16 illnesses and one fatality. Thirteen people have been hospitalized, one pregnant woman suffered a miscarriage. Seven cases have been identified in New York and cases have also been found in New Jersey, California, Maryland, Massachusetts and Illinois. This is the second Listeria outbreak linked to NetCost in the past two years.
8. Multiple brands of Brie and Camembert Cheese have linked to a Listeria Outbreak going back to 2017
Cheese manufactured by Old World Cheese Inc. of Benton Harbor, MI and sold under at least 25 brand names by many large grocery and quick-shop chains has been recalled. At least six people are known to have been sickened in this outbreak so far.
9. Big Olaf Creamery Ice Cream Listeria Outbreak
Ice cream made by Big Olaf Creamery of Sarasota, Florida was linked on July 2nd, 2022 to a recent Listeria outbreak. Anyone who has any Big Olaf Creamery brand ice cream at home should discard it immediately
The current number of known cases by state is Colorado (1), Florida (12), Georgia (1), Illinois (1), Kansas (1), Massachusetts (2), Minnesota (1), New Jersey (1), New York (2), and Pennsylvania (1).
10. Dole Salad Listeria Outbreak
Dole issued a recall in December 2021 for salads produced in North Carolina and Arizona and distributed in multiple states. This outbreak has sickened at least 16 people and led to at least 2 deaths so far. These two plants have been implicated in possible Listeria contamination illnesses going back as far as 2014.
Listeria Contamination is an Ongoing, Often Long-Term Problem
Listeria outbreaks have occurred among many other products in the past ten years as well. Without proper sanitation and monitoring, Listeria can linger in food production and packaging facilities for many years, leading to ongoing contamination, illnesses, hospitalizations, and deaths. Some examples going back to 2014, include:
Fresh Express Salad Listeria Outbreak
Attorneys at Pritzker Hageman are currently investigating a Listeria outbreak linked to the December 2021 recall of Fresh Express salad produced at their Streamwood, Illinois plant. The recall has included all Fresh Express salads produced in that plant up though December 20th, 2021. Listeria illnesses have been associated with the Streamwood plant going back to 2016. This plant has has a history of salad contamination problems and has been linked to multiple Cyclospora outbreaks as well.
Tyson Brand Cooked Chicken Linked to Previously Announced Precooked Chicken Listeria Outbreak
A precooked chicken Listeria outbreak identified on July 2, 2021 has sickened at least 3 people and led to the fatality of at least 1 person. Tyson brand cooked chicken has been linked to this Listeria outbreak and over 9 million pounds of chicken has been recalled so far. This chicken was also used in additional prepared foods such as chicken salad sandwiches and Caeser salads.
EL Abuelito Queso Fresco, Soft Cheeses Listeria Outbreak
An ongoing Listeria outbreak associated with queso fresco and other cheeses has sickened 11 people in Connecticut, Maryland, New York and Virginia. Patients reported eating queso fresco and fresh, soft cheeses such as queso blanco, and queso panela in the weeks before they became ill. Our Listeria lawyers are currently investigating this outbreak.
The CDC announced on March 3, 2020, that Sun Hong Foods brand Enoki Mushrooms were being recalled after they were linked to 36 cases of Listeria, including 30 hospitalizations and 4 deaths between November 23, 2016 – December 13, 2019.
The CDC announced on December 18th, 2019 that 7 cases of Listeria, including 1 death, have been identified across 5 states (Maine, Pennsylvania, South Carolina, Florida, and Texas). These cases have been linked to hard-boiled eggs produced and sold in bulk by Almark Foods. The contaminated eggs were distributed to foodservice operators as well as retail locations and may have been then repackaged and sold individually or as part of prepared foods like salads, egg salad and deviled eggs.
Genetic testing has identified a likely link between a 13-state Listeria outbreak and cooked chicken widely distributed to restaurants in the United States and Canada. The outbreak is likely linked to a slew of Listeria recalls associated with Tip Top Poultry frozen, cooked, diced, or shredded ready-to-eat chicken products. The recalled chicken was manufactured by E.A. Sween Company, which received the chicken from two of their suppliers, the Suter Company and Baja Foods, to which Tip Top is an ingredient provider. The Listeria lawyers at Pritzker Hageman are representing a client who has been hospitalized with Listeria after eating Tip Top chicken salad purchased from Sam's Club in Papillion, Nebraska.
Our food safety attorneys investigated a Listeria outbreak in delis in multiple states that has been ongoing for over two years. This outbreak has been linked to multiple meats and cheeses and, in at least some cases, is likely spreading due to cross-contamination.
Our law firm investigated a Listeria outbreak linked to Long Phung pork rolls. Four illnesses were reported in Louisiana, Michigan, Tennessee, and Texas from July 1, 2017, to October 24, 2018. Epidemiologic and laboratory evidence indicated that Long Phung pork products are the source of this outbreak.
On November 20, 2018, 165368 C. Corporation, doing business as Long Phung Food Products, issued a recall for ready-to-eat pork products due to possible Listeria contamination.
A Listeria outbreak in Virginia (3 people sickened) and North Carolina (one person sickened) was linked to ham products made by Johnston County Hams, Inc. facility in Smithfield, North Carolina. The four people were sickened by the same strain of Listeria bacteria over more than a year: July of 2017 (1); June of 2018 (2); and August of 2018 (1). Outbreak investigation laboratory testing determined that samples of ham products collected from the Johnston County Hams facility in 2016 and in early 2018 were contaminated with the outbreak strain of Salmonella.
Vulto Creamery Raw Milk Cheese
On March 9, 2017, the CDC announced a Listeria monocytogenes outbreak linked to recalled Vulto Creamery raw milk cheeses had sickened six people and killed two in four states: Connecticut, Florida, New York, and Vermont. Testing conducted by public health officials found the outbreak strain of the pathogenic bacteria in cheese wheels taken from the Creamery.
Packaged Lettuce Salad Processed by Dole
On January 22, 2016, the CDC reported a link between certain Dole salad products and an outbreak of Listeria infections (listeriosis) in 6 states. It appears Listeria bacteria may have contaminated some Dole bagged salad products, according to testing done by health officials and reported to the public by the CDC.
Prompted by this outbreak, Dole issued a recall of all Dole-branded and private label packaged salads processed at its Springfield, Ohio production facility. No other products were involved in the recall. A Dole lawsuit for Listeria from lettuce salad will seek money damages for pain and suffering, medical expenses, lost wages, and other compensation.
Blue Bell Ice Cream
At least 10 people from 4 states were sickened in a Listeria outbreak linked to Blue Bell Creameries ice cream, according to the CDC. The 5 people in Kansas were all sickened from "Scoops" eaten at Via Christie Hospital in Wichita, Kansas. The outbreak was over as of June 10, 2015.
Apples Processed by Bidart Bros. and Made into Caramel Apples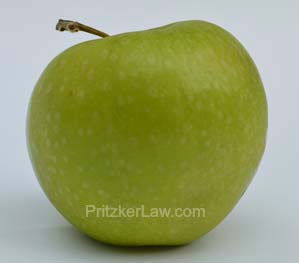 From October 17, 2014, to January 6, 2015, people in 12 states were sickened in an outbreak linked to apples processed by Bidart Brothers (CA company), dipped in caramel and sold at grocery stores (and Walmart).
Eleven of the cases of listeriosis were associated with a pregnancy (occurred in a pregnant woman or her newborn baby). One miscarriage was reported.
Three of the people sickened were otherwise healthy children ages 5 to 15. They all developed meningitis. It is very rare for a healthy child to be severely sickened by this pathogen.
Seven of the people sickened in the outbreak died. The CDC determined that at least 3 of these deaths were caused by Listeria.
Prompted by the outbreak, Bidart Bros. recalled all of the company's Granny Smith and Gala apples still available in the marketplace in January of 2015. Three brands of caramel apples were linked to the outbreak: Carnival, Happy Apple and Merb's.
Soft Cheese Made by Queseria Bendita
Three people in Washington were diagnosed with listeriosis after eating soft cheese made by Queseria Bendita, a Yakima, WA company. One of the illnesses was pregnancy-associated. Two people were hospitalized, one of them died.
Prompted by this outbreak, on January 23, 2015, the company issued a recall of all lots of Panela, Queso Fresco, Requeson, Cotija fresh soft cheese products and Sour Cream (all best-by dates). These products were distributed to Hispanic grocery stores in Washington and Oregon, and the company sold the products from its on-site store in Yakima, Washington.
Sprouts Processed by Wholesome Soy
From June through August of 2014, 5 people were sickened in 2 states: Illinois (4) and Michigan (1). The outbreak was linked to mung bean sprouts produced by Wholesome Soy Products, Inc. The outbreak strain of Listeria was found in both sprouts isolates and environmental isolates collected at the production facility. All five of the people sickened were hospitalized, two of them died.
Contact us today for a 100% free legal consultation about your Listeria case