When a family loses a loved one, they need answers. A wrongful death attorney can use the Minnesota legal system to get companies to provide relevant evidence, which can be used to piece together the truth about the fatal incident. Attorney Eric Hageman has experience with complex wrongful death lawsuits in Minnesota and throughout the United States. He recently won a $6 million settlement for a family in a traffic accident case.
You can contact attorney Eric Hageman using the form below.
Yes, I want to talk with attorney Eric Hageman
Below are some of the many settlements Eric and our other Minnesota wrongful death lawyers have won for families:
$6,000,000 in a lawsuit against a driver and the company that had serviced the vehicle prior to the crash.
$3,500,000 to a couple that suffered the loss of unborn twins after the pregnant mother ate food contaminated with Listeria bacteria.
$3,000,000.00 on behalf of a family in a wrongful death lawsuit against a school district.
$3,000,000 on behalf of the family of a woman who died as a result of Legionnaire's Disease.
$2,950,000 on behalf of a family following a fatal apartment fire.
$2,850,000 for a family whose loved was run over while riding a bicycle.
$2,700,000 for the family of an elderly man who died from food poisoning.
Attorneys Fred Pritzker  and Eric Hageman represented the family of a student who drowned during gym class. The teacher brought the children to a pool with no life guards, and he was the only adult supervising. But instead of watching the children, Fred and Eric found out that he was watching a computer screen. One of the children who could not swim went to the deep end on a floating device, fell off of the device and drowned. He was not found until all of the other children were out of the pool and getting ready to leave.
"Fred and Eric proved that our son didn't die by accident and our greatest relief was to watch these lawyers work and fight for our son."


Read this family's story.
Get Compensation and Justice for Your Family Member
Under Minnesota Statutes, section 573, a decedent's spouse and next of kin can sue, but damages are limited to financial loss, including:
Funeral expenses
Medical expenses
Potential earnings
Loss of advice, comfort, assistance, protection, counsel and society
Punitive damages upon clear and convincing evidence that the acts of the defendant show deliberate disregard for the rights or safety of others.
Minnesota courts have interpreted the act as barring recovery for pain and suffering experienced prior to the person passing away, and emotional distress experienced by the spouse and next of kin.
Even without damages for pain and suffering and emotional distress, Minnesota courts have awarded significant amounts of monetary compensation to families of victims.
Minnesota Wrongful Death Law
When someone is killed because of the wrongdoing of a person or company, a family can sue under Minnesota Statutes, section 573.02. Minnesota's wrongful death law provides families with the right to seek compensation for the loss of a loved one "caused by the wrongful act or omission of any person or corporation." In many cases, this is the only way to hold the wrongdoer accountable.
In Minnesota, a wrongful death lawyer represents the trustee who is acting on behalf of the surviving spouse and next of kin.  The lawyer will need to prove the following to recovery compensation:
The death of a human being
Caused by the wrongful act or omission (negligence) of a person or corporation
Financial loss (damages) suffered by the surviving spouse or next of kin.
Free Consultation with Wrongful Death Lawyer in MN
We are a national law firm and represent families throughout the United States. Our law firm is listed in U.S. World and News Report's The Best Law Firms in America.
We represent clients throughout Minnesota in cases against truck drivers, trucking and bus companies, restaurants, bars, retailers, restaurants, pharmaceutical and medical device companies and others.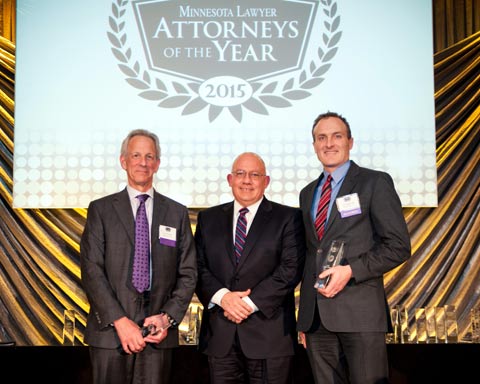 Minnesota Wrongful Death Accident Information
Truck accident deaths account for more than 10 percent of traffic fatalities on America's roadways. According to the U.S. DOT, nearly one in four fatal crashes involving commercial trucks involved rear-end collisions. Our lawyers stand with law enforcement officers who want truck drivers and trucking companies to do more to prevent the tragedy of getting hit from behind by a semi-truck.
A box truck was traveling westbound on I-94 when it crossed through the median and hit a Chevy pickup head-on. It then broadsided a Kia Optima on the passenger side. The driver of the pickup was tragically killed in the crash. He left behind a wife and two sons. The husband and wife in the 2013 Kia Optima were injured. The passenger in the Kia sustained life threatening injuries. the box truck driver said he may have lost control due to a medical condition.
A Chrysler 200 Touring was traveling south on Highway 316 when it crossed into MN Highway 61, hitting a Harley Davidson motorcycle that was traveling north. The Chrysler car then hit a Cadillac SRX that was going south on Highway 61. The driver of the Harley was critically injured, and his wife was killed.
A head-on collision in Pine County, MN, killed a man from Milaca. According to the preliminary accident report, a Saturn car was traveling westbound on Highway 23 in Brook Park when it moved into the oncoming lane of traffic and hit a Buick Park Avenue head on. The driver of the Buick tragically did not survive the crash.
This morning, the driver of an SUV died when his vehicle collided with a semi-trailer on Industrial Boulevard in Minneapolis, Minnesota. No additional information was provided at the time this was written.
A Chevy Silverado was northbound on Highway 56 when the driver attempted to pass another vehicle and hit a southbound Ford Focus head-on, according to the Minnesota State Patrol. The driver of the Ford Focus, Severt Fiksen, was tragically killed. The crash happened on Highway 56 (710th Street), just north of Hayfield, Minnesota.
A recent head-on collision between two semi-tractor trucks in Minnesota tragically killed both drivers. The crash happened on I-90 when a Kenworth semi-tractor traveling eastbound crossed the median and entered the westbound lane of traffic, where it collided head-on with a Freightliner semi, killing the driver of that vehicle.
A Kenworth semi was traveling eastbound on I-90 as a Freightliner semi was traveling westbound. The Kenworth crossed the median and entered the westbound lane of traffic, where it collided head-on with the Freightliner, causing the tragic loss of the 37-year-old driver from Roseville, Minnesota, who was driving the Freightliner.
Early this morning, a fatal crash in St. Louis County, Minnesota, tragically ended the life of a woman from Rush City, MN.
A 23-year-old man from Janesville, Wisconsin, was driving a GMC pickup truck on Highway 70 when it broadsided a Buick Lesabre, according to the Minnesota State Patrol's preliminary report. The Buick was crossing Highway 70 from southbound County Road 23.  The driver of the Buick did not survive the crash, and her passenger was injured.
On Thursday afternoon, a FedEx truck and a motorcyclist collided at the intersection of Burnsville Parkway and 143rd Circle in Burnsville, Minnesota. The driver of the motorcycle was pronounced dead at the scene. Our thoughts are with the family.
Yesterday, an Xcel Energy truck jumped the curb and killed a man in Bloomington, Minnesota, at 86th Street and Nicollet Avenue. He was waiting at a bus stop. The Xcel truck, pulling a trailer, was traveling south on Nicollet.