Fred Pritzker and Eric Hageman are honored to have been named 2015 "Attorneys of the Year" by Minnesota Lawyer. The annual award celebrates the greatest achievements of the Minnesota legal community during the calendar year. It is Eric's second time receiving the award, and Fred is a third time recipient.
The attorneys are being honored for the groundbreaking result they achieved in the wrongful death lawsuit brought by the family of Abdullahi Charif, a 12-year old boy who drowned during a school swimming class at St. Louis Park Middle School on February 27, 2014. Ultimately the school agreed to pay the entire sum of it's insurance limits, a seven figure settlement, to the Charif family.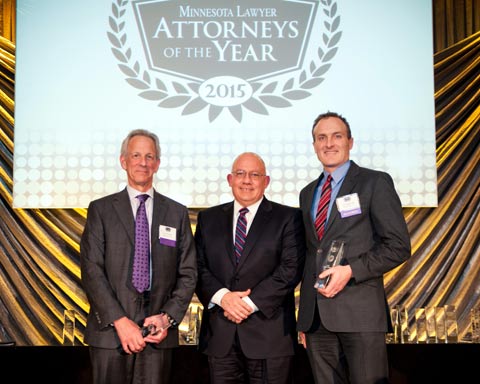 While the initial police investigation cleared the gym teacher of any wrongdoing  Hageman and Pritzker refused to accept no for an answer. During the discovery phase in the case the attorneys conducted over twenty-five depositions revealing damning information that had not been previously discovered, including evidence that that electronic information had been purposefully deleted. This required a high degree of forensic analysis and discovery, leading to identification of a number of instances in which it appeared that relevant information regarding the instructor's online conduct had been intentionally removed.
A second piece of evidence crucial to case was the nature of instruction during the swim class on that day. Depositions of the other students revealed that the teacher had deemed class a "free play" day. Both swimmers and non-swimmers participated in a roughhousing game of "king of the hill" in the deep end, on a large unsanctioned raft that obstructed the view of the bottom of the pool. The teacher was using his iPad during class and did not observe Abdullahi as he sank to the bottom of the pool, where an expert doctor specializing in drowning cases determined he remained, undetected, for over fifteen minutes.
On behalf of the family, Ali Warsame, Abdullahi's father, said, "No amount of money can ever bring back Abdullahi, but by filing this lawsuit, we sought to change the school district's approach to pool safety, so that no other family would ever have to lose a child the way our family did. We hope that by shining a light on what happened to Abdullahi, future tragedies can be avoided." The school district suspended all school swimming classes until policies, including proper training protocols, could be put in place to prevent a similar tragedy.
Eric and Fred understand while the settlement of this lawsuit can't ever bring Abdullahi back, through holding accountable those who were in position to prevent this tragedy, the family may find peace and begin to move forward from their tremendous loss. To honor Abdullahi, and help prevent future tragedies, the family will be allocating a portion of the settlement proceeds to support organizations that promote pool safety.