What if the driver that injured me in an accident had a revoked or illegal license?
If an accident was caused by a truck driver with a revoked or illegal license, you may have a personal injury or wrongful death claim against the driver and the trucking or bus company. Our lawyers would also look at corporate documents and other evidence to determine if you have a punitive damages claim, which would give you the right to sue for an amount of money meant to punish the wrongdoers.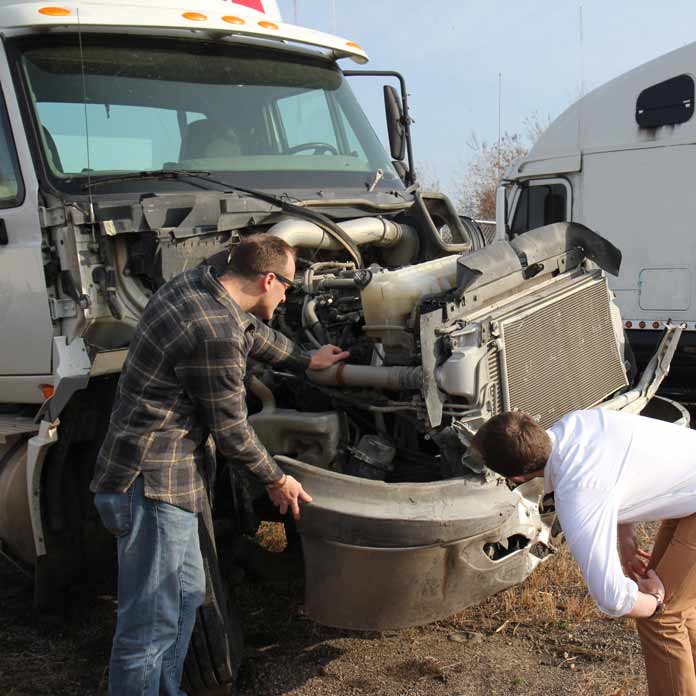 Federal Regulations Require Truck Drivers to Be Qualified
The Commercial Motor Vehicle Safety Act was enacted to improve highway safety by ensuring that operators of large trucks and buses are qualified to operate those vehicles and to remove ones that are unsafe and unqualified from the highways. The Act retained the states' right to issue a driver's license, but established the following minimum federal standards which states must meet when issuing a commercial driver's license (CDL):
It must be illegal for CDL holders to possess more than one license;
States must adopt knowledge and skills testing to ensure that individuals required to have a CDL are qualified to operate heavy trucks and buses;
States must established minimum licensing standards and information requirements for the CDLs that states issue.
Penalties for Driving with a Revoked License
Truckers are required to obtain and hold a CDL if they operate in interstate, intrastate or foreign commerce. Trucking companies are required to do a background checks on every new truck driver to verify their CDL. The companies are also required to perform a periodic check for any new violations or disqualification.
A truck driver's license may be revoked or suspended for:
driving while under the influence of alcohol or drugs
leaving the scene of an accident
felony use of a commercial vehicle
the manufacture, sale or distribution of a controlled substance
serious traffic violation
repeat offenses of speeding, driving recklessly, erratic lane changes or tailgating
causing a fatality through negligent operation of a commercial vehicle.
Within 30 days of a conviction for any traffic violation, except parking, a driver must notify his or her employer, regardless of the nature of the violation or the type of vehicle which was driven at the time. If a trucker's driver's license is suspended, revoked, canceled or if the driver is disqualified from driving, the driver must notify the employer by the end of the next business day following receipt of the notice of the suspension, revocation, cancellation, lost privilege or disqualification.
Employers that knowingly use a driver who has more than one license or whose license is suspended, revoked or canceled or is disqualified from driving, may be subject to civil or criminal penalties. Additionally, if a disqualified driver is involved in a serious accident, the trucking company may be held negligent and legally liable if anyone is hurt or killed.
Can I Sue the Trucking Company if the Driver Did Not Have the Right License?
If a truck driver caused an accident, and he or she did not have the correct license or had a revoked license, you may have the right to sue both the trucker and the trucking company for compensation for personal injury or wrongful death.
Negligent truck drivers and their employers do not have the right to ignore the law, and if they do it anyway and other people are hurt, they should be held accountable. Victims of semi truck accidents can sue negligent truck drivers and the trucking companies that employ them to recover financial compensation. Victims can claim medical costs, pain and suffering, loss of quality of life, loss of past and future wages and other damages.