Our law firm can help you win a lawsuit against a trucking company for personal injury or wrongful death caused by a negligent driver. Your lawsuit can help you get money and justice. You can contact our law firm using the form below.
5 Things We Will Do to Win Your Case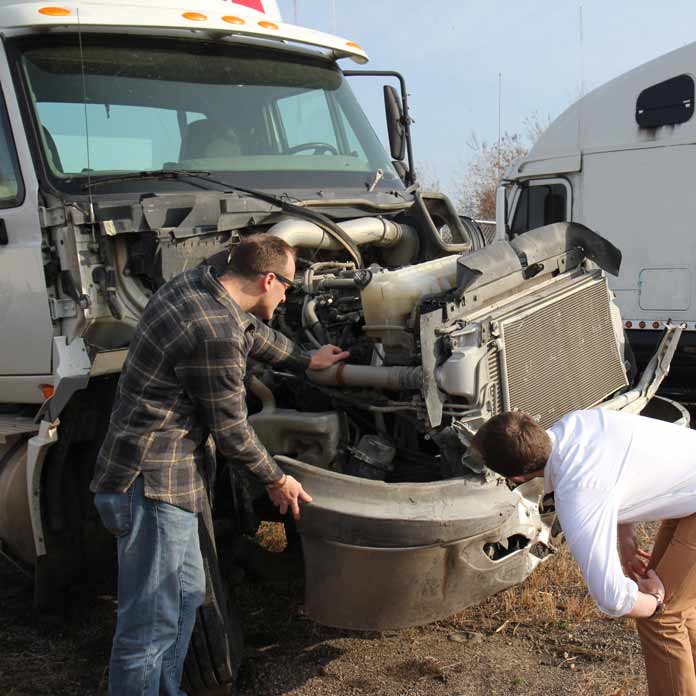 When we are hired to sue a trucking company and commercial vehicle driver, we immediately do the following:
Send a legal letter to the company called a "spoliation letter." This is a critical first step that is required to preserve evidence. It tells the company what happened and that it can't alter or destroy any evidence, including black box data. If this letter is not sent in a timely manner, your case may be adversely affected. You need to make sure your lawyer knows what this is and has experience doing this.
Interview witnesses. This needs to be done before memories fade.
Hire crash scene reconstruction specialists. Because we have experience with these cases, we have relationships with the best forensic engineers in the business, and we have the resources to hire them. We are not paid unless you win your lawsuit against the trucking company and truck driver.
Examine the crash vehicles. All of the vehicles involved in the crash should be inspected for dents, scrapes, other evidence of the impact and defective parts (brakes, steering, tires, etc.). We always do this with our crash scene reconstruction experts.
Send a "demand letter." This details the facts of the case, the injuries or the fact that the person has died, and the amount of money our client wants as compensation. It is generally the first step in the negotiation process.
Decide where to file the lawsuit. Truck accident lawsuits often involve people and companies from different states. Our lawyers have handled cases where the accident happened in one state and the drivers were from 2 other states. These multistate cases have unique legal issues, including where the lawsuit is going to be filed. Some states have limits on pain and suffering compensation. This can mean the difference between $100,000 and millions of dollars for an injured person. This is one of the many reasons it is really important for you to find a lawyer who specializes in commercial truck accident cases.
Our team of truck accident lawyers helps people throughout the United States get compensation and justice:
$10 million for third-degree burns on over 50 percent of our client's body
$6 million for wrongful death
$5.1 million for a crushed limb that our client lost after multiple surgeries
Contact our truck accident attorneys for a free consultation (click here).
Our law firm represents accident victims and their families nationwide.
Helping Our Clients Get Compensation and Justice
Below are two of the many cases we has successfully handled.
Leg Amputation after Being Hit from Behind by a Transportation Company 18-Wheeler
Our client was riding his motorcycle when he was hit from behind by a fully-loaded transportation company tractor-trailer. It is a miracle that he survived. One leg was crushed. After several surgeries, the leg had to be amputated.  Pritzker Hageman attorneys flew to the city where our client was hospitalized and talked with him about his case. After they were hired, they aggressively pursued compensation from the company, whose team of lawyers initially denied fault. Undaunted, our attorneys built a winning case and won over $5 million for our client. At the same time, they traveled to see our client several times and connected him with one of the best prosthetists in the U.S. so that he could have the best prosthetic leg available, even before the settlement payout.
Family Loses Adult Child When He Runs into Tractor-Trailer
A young man was driving down an icy highway, unaware that a tractor-trailer had jackknifed on the slippery road. Unable to stop when he saw the vehicle blocking the road, the young man ran into the truck and tragically died at the scene. The parents initially did not know if they had a case. Could they sue under state wrongful death laws when the person who died was an adult child? Was the truck driver at fault even though he was driving the speed limit on icy roads? They contact our law firm and hired Eric Hageman and his team, who told them that parents of adult children can sue for wrongful death and that he could do an investigation to find out if there was negligence. Eric's investigation found black-box-data evidence that the trucker had been driving too fast for the conditions, which is considered negligence under the law, especially for drivers of big rigs. The enormity of the family's loss could never be rectified, by they got answers, and, by obtaining significant compensation, they held the driver and company responsible.
Building a Winning Case
Our law firm uses technology to win cases.
We stay on the cutting edge of technological advances to present persuasive evidence and get multi-million-dollar settlements and jury verdicts. Another thing that sets our law firm apart is that we know the federal laws governing trucking companies and their drivers inside and out. Attorney Eric Hageman teaches other lawyers about these laws at legal seminars. When you hire Eric, you hire experience, skill and aggressive representation.
Investigating an accident involving a car, motorcycle, van, bus or bicycle, is extremely expensive. When you hire an attorney, you will need to make sure that the law firm has the resources to investigate and win your case. Our law firm has won millions for accident victims. This means we have the resources to hire the best accident reconstruction specialists, animationists and other professionals to give you the winning edge.
Lawsuit against a Trucking Company and Insurance Payouts
When we sue a trucking firm on behalf of a client, we negotiate with the company's legal team and its insurer.  The insurance company is involved because it ultimately pays the victim and his or her family.  In many cases, more than one insurance company is involved. To learn more, read "Truck Accident FAQ".
If you or a loved one has been in an accident with a semitrailer, you have probably already been contacted by the insurer for the driver, the owner of the freight or another potentially liable party.  You should not talk to the other side's insurer.  Its goal is to make sure it pays out as little as possible.
Our law firm has negotiated several settlements of over $2 million dollars.  This is only after we have built a case that they know we have a good chance of winning at trial.  Because of our success at doing this, our law firm has the resources to hire accident reconstruction experts and others to make your case one that will persuade a jury to give you a full and adequate amount of money.