The Centers for Disease Control and Prevention has published a paper about their investigation into a 2015 outbreak of Listeria monocytogenes infections (listeriosis) linked to ice cream products that sickened 10 people and killed three. The information is published in the December 2016 issue of Emerging Infectious Diseases.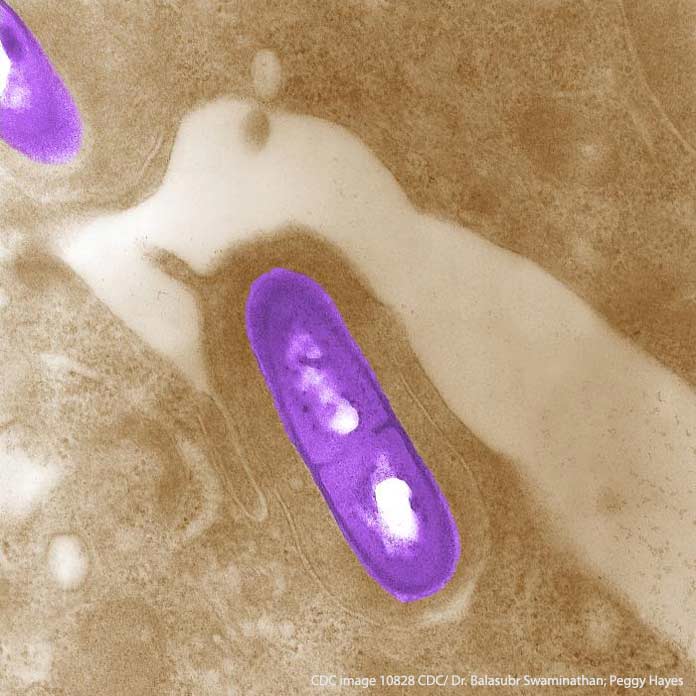 The facility responsible for the outbreak is not named in the paper, but the number of people sickened, the states where the ill persons lived, and the number of deaths listed in the EID report and CDC investigation into the 2015 Blue Bell Listeria monocytogenes outbreak all match. Ten case-patients with listeriosis related to this outbreak were reported from Arizona (1), Oklahoma (1), Texas (3), and Kansas (5). Listeria monocytogenes isolates from four of the Kansas patients were "indistinguishable by pulsed-field gel electrophoresis from isolates recovered from ice cream made in 1 plant of the implicated company. The Blue Bell facilities are described in the report as factory 1 and factory 2.
This outbreak took place over a very long timeline, a phenomenon common in Listeria monocytogenes outbreaks. DNA evidence and information from PulseNet is used by investigators to find people sickened in outbreaks. The first known listeriosis case associated with this brand of ice cream occurred in January 2010, but the first patient linked to ice cream from factory 1 was hospitalized in December 2013.
The study was conducted to learn about contamination levels in the ice cream, how many bacteria cells ingested by the patients will trigger illness, and the dose-response relationship for Listeria monocytogenes. The researchers wanted to discover if some people in high risk groups can become seriously ill even when the number of bacteria in a contaminated product is low. Because this illness usually has such a long incubation period that precludes collecting implicated food samples, discovering the dose-response relationship has been difficult until this outbreak.
This particular study looked only at the four hospitalized Kansas patients, whose illnesses were linked to the ice cream made in factory 1. Food histories were available for three of those patients. All of them ate product 1 from factory 1 through milkshakes served to them in the hospital.
Unique data was collected from this particular outbreak investigation for several reasons. The number of samples tested was "by far the largest ever reported from an outbreak setting," according to the report. This situation was unique because ice cream preserves the viability of Listeria monocytogenes because freezing temperatures don't kill the bacteria but also does not support growth, so levels of contamination were likely accurately measured and remained relatively constant over the shelf lives of the products.
The paper states that the estimated mean dose per milkshake was 1,24o Listeria monocytogenes cells. That means that about 8 cells per gram of ice cream was the mean contamination level, assuming a milkshake size of about 5.4 ounces. That is relatively low compared with contamination levels in other Listeria monocytogenes outbreaks, but the patients who received these milkshakes had underlying medical conditions that contributed to compromised immune function.
But since there were no leftovers of the actual milkshakes served to the patients in the hospital, it is possible that the four susceptible patients received "some of the highest contaminated products from the factory line, triggering infection."
This outbreak demonstrates that listeriosis can be contracted when products with low-level contamination that do not support growth (such as ice cream or other frozen products) are distributed widely to the public. It also shows that even when the distribution of products contaminated with Listeria monocytogenes is widespread, most consumers of those products will not get sick when contamination levels are low and the bacteria cannot grow in the product; but those in high risk groups can get sick. And finally, this outbreak adds more evidence of the risk of contracting listeriosis by patients with weakened immune systems and calls for effective risk management to minimize illnesses.
The symptoms of a Listeria monocytogenes infection can mimic the flu, and include muscle aches, fever, upset stomach, diarrhea, stiff neck, headache, loss of balance, and confusion. Pregnant women are especially at risk for this illness, because listeriosis can cause miscarriage and stillbirth, even though the woman may only have a mild illness.
Listeria monocytogenes outbreaks are generally caused by ready-to-eat foods like ice cream, raw milk, soft cheese, leafy greens, cantaloupe and deli meats. A recent outbreak was linked to frozen vegetables.
If you have been sickened in this or another Listeria outbreak, call our experienced food safety attorneys for help. Call 1-888-377-8900 or fill out our free online consultation form and someone will contact you soon.