Three men on a tree trimming crew were seriously injured when a semi-tractor crashed into them and the tree company vehicles, a 2004 bucket truck and a 2012 Dodge pickup truck. The crew had set-up on the northbound side of Ohio 13 near milepost 6 in Huron County's Fitchville Township. A flagger was stationed behind the crew with a stop sign.
The commercial semi-truck was heading northbound on Ohio 13 towards the crew and should have seen the flagger, but the driver did not stop.  He struck 3 men on the crew and the tree company trucks, then his semi burst into flames.
The three injured men were as follows:
Calvin Hoover, from Tiffin, who sustained serious injuries;
Ryan Niedermeier, from Bucyrus, who sustained serious injuries;
Zachary Warner, from Bucyrus, who sustained life-threatening injuries.
Charges are pending against the semi-trailer driver. The investigation is ongoing.
The Ohio State Patrol was assisted at the scene by the Huron County Sheriff's Office, New London Fire Department, Tri-Community Fire Department, North Central EMS, Firelands EMS, Ohio Department of Transportation, Wilcox Towing and Miller's Towing.
There are federal and state Hours-of-Service laws that limit the amount of time a commercial truck driver can be on the road. These laws are meant to prevent serious injuries and wrongful death caused by drivers that are too tired to drive safely. There have been cases where trucking companies require or permit a driver to violate these laws. When this happens and there is a crash, the company can be fined by federal and state regulators, and the company can be sued by anyone injured and the family of anyone killed. A lawsuit may also seek "punitive damages" compensation in some cases.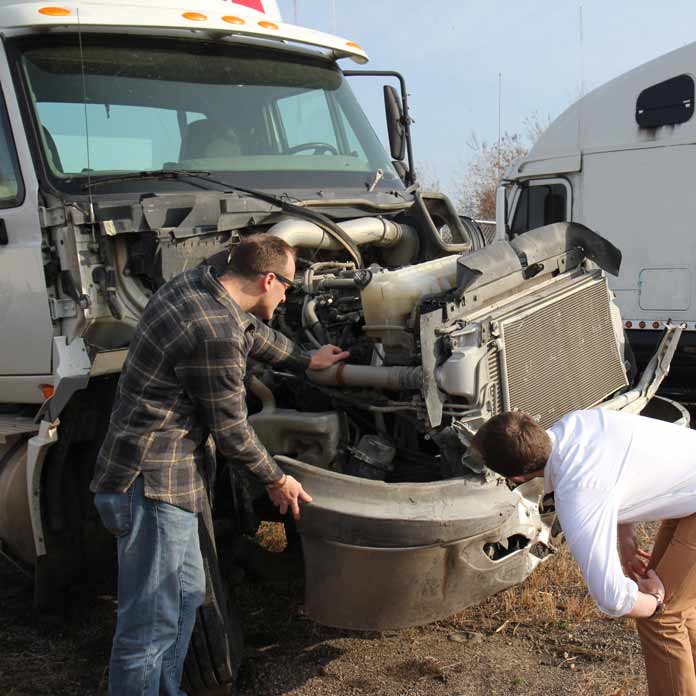 If you are injured in a traffic accident and a semi-tractor driver is at fault, your lawyer will need to gather information to determine who you can sue. One or more of the following may be legally responsible:
the commercial semi driver
the owner of the tractor/cab
the owner of the trailer
the owner of the cargo being hauled
the employer of the semi driver.
A spoliation letter is sent to a trucking company to give notice to the company that an accident victim has a claim against the company and that the company is responsible for preserving evidence that may be used to prove that claim, for example black-box data and the semi driver's qualification file.