The microbiological part of an investigation into a cluster of listeriosis  cases involves a genetic subtyping process to determine if the listeriosis cases were caused by the same strain of Listeria monocytogenes.  This process begins with obtaining an isolate of Listeria monocytogenes bacteria from the people with listeriosis.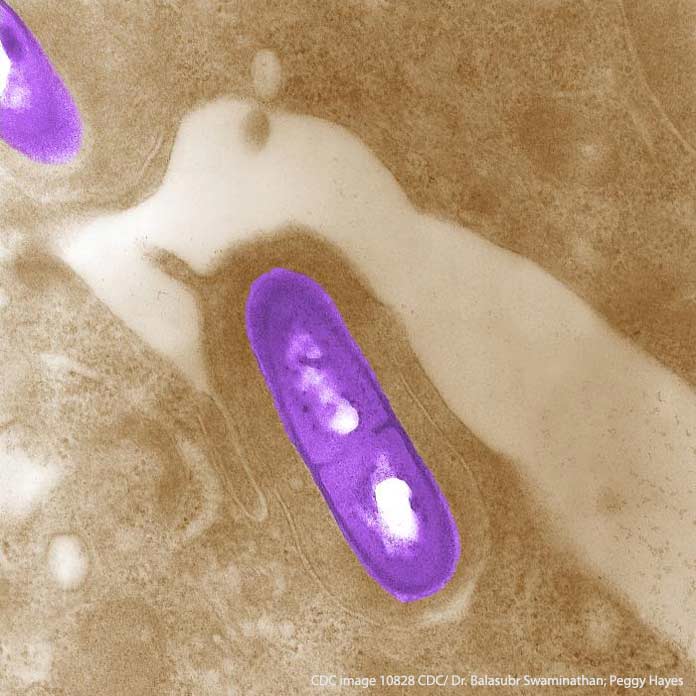 These isolates are tested pursuant to PulseNet system protocols using pulsed field gel electrophoresis (PFGE), a molecular subtyping technique. PFGE testing provides genetic fingerprints of the isolates.  When two or more Listeria bacteria have matching genetic fingerprints, there is a common source of the bacteria and the resulting cases of listeriosis are considered part of the same outbreak.
Determining the Source of a Listeriosis Outbreak
To find the source of an outbreak, genetic fingerprinting and epidemiological evidence are used.  The people sickened by Listeria bacteria with matching DNA fingerprints are interviewed (and/or their families are interviewed) to determine what they ate in the last 2 months (the incubation period for Listeria can be as long as 70 days).  Health investigators (epidemiologists) look for common food sources and investigate all likely sources, looking at food purchased from grocery stores and food eaten at restaurants.
Part of that investigation is testing food processing plants (drains, equipment, etc.) and food products for Listeria monocytogenes.  If Listeria is found, isolates will have PFGE testing done on them to determine if they match the outbreak strain of this pathogenic bacteria.  If there is a match, health officials consider the food (food produced at the plant if the bacteria was found in the plant) the source of the outbreak.
If epidemiological evidence (patient interviews, receipts of purchase, etc.) associates a food product with an outbreak but Listeria is not found in the food product or the plant that produced it, that is generally adequate evidence to make a claim for damages against the manufacturer, distributor, and/or retail seller of the food.
You can contact a Listeria lawyer at our law firm about a Listeria lawsuit.