The Listeria lawyers at Pritzker Hageman represent clients nationwide in personal injury and wrongful death cases. Food litigation lawsuits are incredibly complex, and few law firms handle these cases on a regular basis. We do, and we have won millions for our clients, including many multimillion-dollar recoveries. Contact us today.
Contact Our Listeria Lawsuit Lawyers Today
Phone: 1-888-377-8900 | Text: 612-261-0856
The consultation is free and you never pay anything until we win for you.
Listeria Infections
Listeria monocytogenes is found in soil, water plants and the intestines of animals. Eating food that is contaminated with it can cause an infection called listeriosis. A rare and serious illness, listeriosis almost always requires hospitalization. In the U.S., about 1,600 cases are reported annually roughly 20 percent of them prove fatal.
Although anyone can contract a Listeria infection, some people are at higher risk. Most cases occur in pregnant women, newborn babies, seniors and people with compromised immune systems. In fact, pregnant women, who are 20 times more likely to contract listeriosis than other people, account for one-sixth of all diagnosed cases, according to the Centers for Disease Control and Prevention (CDC). And even if they experience only mild symptoms, the infection can cause miscarriage, stillbirth, premature delivery, or infection in newborns.
Listeriosis symptoms, which include nausea, diarrhea and other gastrointestinal issues, followed by headache, stiff neck, muscle soreness, dizziness and confusion, can take up to 70 days to develop. Complications include: meningitis, hydrocephalus, encephalitis, seizures, blindness, brain stem damage, cranial nerve palsies, septicemia, pneumonia, cervical cord compression and, among pregnant women miscarriage and stillbirth.
Listeria is resistant to cold temperatures but can be killed through cooking and other heating methods used to produce ready-to-eat foods such as pasteurization. But food can become contaminated after processing.
Genetic "Fingerprints" Define Outbreaks
When someone is diagnosed with listeriosis, health officials use genetic tests such as Pulsed Field Gel Electrophoresis (PGFE) and Whole Genome Sequencing (WGS) to identify the genetic "fingerprint" of the Listeria strain and post the information on a national subtyping database. Fingerprints that match indicate patients were sickened by the same thing.
If their food histories reveal that they have eaten the same thing, that food is also tested for Listeria. If the test is positive, the Listeria from the food is subjected to genetic tests to see if its fingerprint matches the outbreak strain.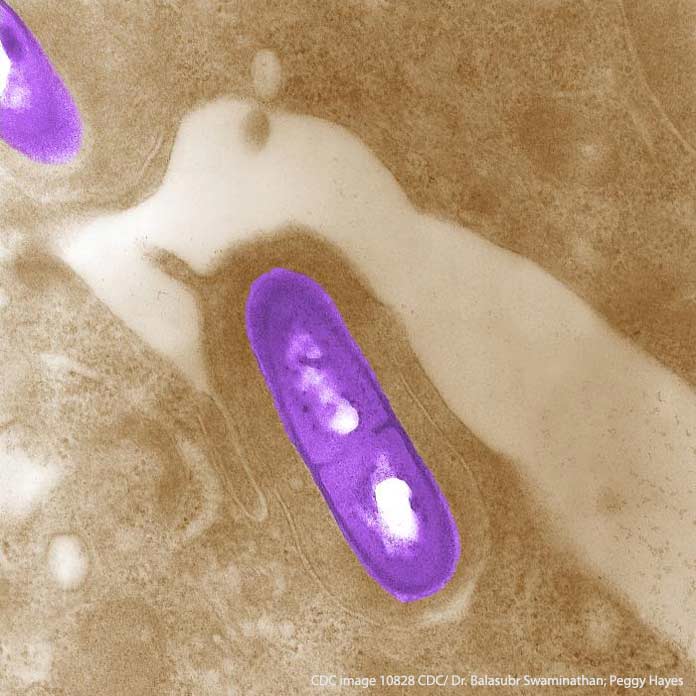 Personal Injury Settlements
Our Listeria Team recently recovered a $4.5 million award for a young man who ate contaminated food and suffered permanent brain damage. Here is what he had to say about the settlement:
"In my case, the bacteria caused swelling in my brain and sent me into a week-long coma. I awoke to the impairments of permanent brain damage characterized by extreme loss of motor function and a variety of other damages. The money from my case has allowed me to live mostly independently. I can afford to hire aides to assist with the physical tasks I cannot do. The compensation also enabled me to make major ADA modifications at home without worrying about the cost."
Wrongful Death Settlements
In one of our Listeria lawsuits, we won $3,500,000 for a family who lost unborn twins and $2,700,000 for the family of an 81-year-old man who died. Both of these cases were part of an outbreak linked to contaminated deli meat.
The corporate defendants were represented by large and prestigious firms that devoted substantial resources to defending these claims. They produced more than 107,000 documents during the discovery process.
Our team pursued FOIA requests at every level of government; found and retained media coverage related to the defendants and the outbreak; obtained industry publications related to Listeria dating; and cataloged hundreds of scientific articles related to L. monocytogenes, genetic subtyping, foodborne illness and food industry sanitation.
We also negotiated E-discovery terms with one of the defendants after determining that thousands of potentially relevant email messages and metadata were stored on their sophisticated computer and email network. The case was long and complicated, but ultimately we prevailed.
Consultation with a Listeria Lawyer
To request a free consultation with a member of our Listeria Team, use the form below.