Our Listeria lawyers have won millions of dollars for our clients, including $4.5 million for one client who ate contaminated food and suffered permanent brain damage.
"Listeria contamination is preventable. In each case our goal is the same: win full and fair compensation, hold the wrongdoer accountable, and protect the public. This is what we can do for you." Attorney Fred Pritzker
Yes, I want a free consultation with a Listeria lawyer.
Use the form below to request a free consultation with a lawyer.
Listeria Lawyer Helped Get Settlement Money after Listeriosis Caused Permanent Brain Damage
Here is what one client had to say about the settlement our law firm won for him:
"In my case, the bacteria caused swelling in my brain and sent me into a week-long coma. I awoke to the impairments of permanent brain damage characterized by extreme loss of motor function and a variety of other damages. The money from my case has allowed me to live mostly independently. I can afford to hire aides to assist with the physical tasks I cannot do. The compensation also enabled me to make major ADA modifications at home without worrying about the cost."
Food litigation lawsuits are incredibly complex, and few law firms handle these cases on a regular basis. We do, and we have won millions for our clients, including many multimillion-dollar recoveries.
Our Listeria Lawyers Obtain Wrongful Death Settlements
In one of our Listeria lawsuits, we won $3,500,000 for a family who lost unborn twins and $2,700,000 for the family of an 81-year-old man who died.
Both of these cases were part of an outbreak linked to contaminated deli meat. Our attorneys first became involved in representing victims of this outbreak shortly after the outbreak was identified but long before the Centers for Disease Control and Prevention issued its final report linking this outbreak to the two defendants in this case.
After several months of investigating these outbreak cases, after ruling out several potential defendants, and after identifying and understanding the damage claims, settlement negotiations were commenced.
Neither of the defendants to which the settlement demand was addressed acknowledged any responsibility for the outbreak and both refused to enter into any settlement negotiations. As a result, the cases were placed in suit.
Both corporate defendants (companies being sued) were represented by large and prestigious firms that devoted substantial resources to defending these claims.
Evidence Our Listeria Lawyers Used to Win the Settlement
After discovery commenced, more than 107,000 documents were produced by the defendants. In addition, Pritzker attorneys and staff pursued FOIA requests at every level of government; found and retained media coverage related to the defendants and the outbreak; obtained industry publications related to Listeria dating to the 1990s; and catalogued hundreds of scientific articles related to L. monocytogenes, genetic subtyping, foodborne illness and food industry sanitation.
Attorney Brendan Flaherty worked on this case.
"One of the defendants had a sophisticated computer and email network on which thousands of potentially relevant email messages and metadata were stored. We determined that extensive e-discovery was necessary and, accordingly, retained technical consultants and extensively negotiated E-discovery terms with the defendant. Through the most sophisticated E-discovery methods available, this data was eventually extracted, imaged and added to the above-described databases where, again, it was reviewed, coded and indexed." — Attorney Brendan Flaherty
The review of these documents led to additional detailed discovery requests, a series of highly contentious discovery issues and numerous motions to compel discovery. These motions included an exhaustively briefed issue related to one defendant's assertion of the "self-critical analysis" privilege on a crucial document. We ultimately prevailed on that issue.
Listeria Lawyer: Science Used to Win Case
The science of listeriosis infections in general and the role of science in this particular outbreak significantly complicated these cases. L. monocytogenes is ubiquitous in nature. Thus, it is critical to genetically identify the outbreak-causing strain and determine its source. Doing so requires the use of highly technical and sophisticated scientific processes involving genetics, microbiology and epidemiology, among others.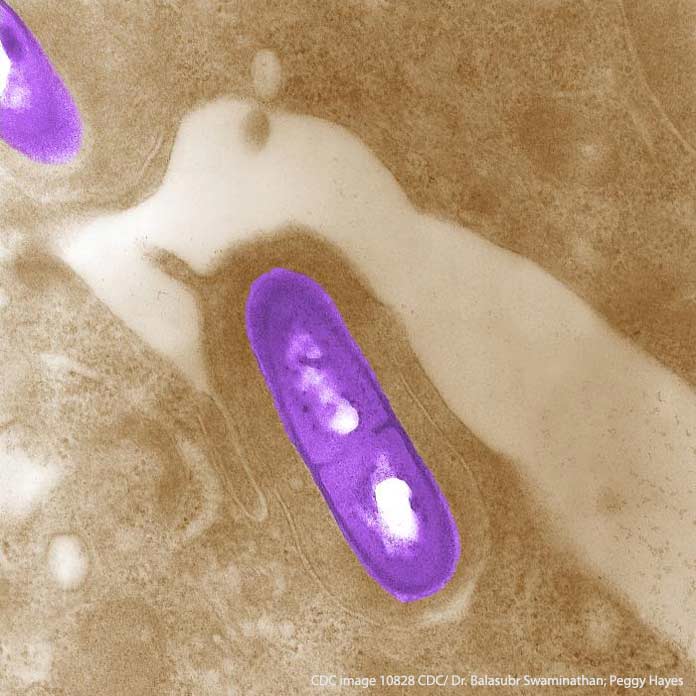 The body of knowledge involving these subjects is dense, arcane and constantly evolving. It required attorneys at our firm to spend hundreds of hours learning and then partially mastering the scientific principles involved. For example, the process of differentiating strains of L. monocytogenes is accomplished by serotyping, ribotyping, use of pulsed-field gel electrophoresis (using two, three or more enzymes and enzyme combinations), MLST, MVLST and a host of other techniques.
Microbiology is only one component of the process necessary to identify the source of an outbreak. The other involves complex foodborne illness epidemiology which was very much an issue in this case. It was an issue because a) the rare outbreak strain was found in two plants, not one as is usually the case; b) the outbreak strain was not detected in one defendant's product; c) it is difficult for outbreak victims to identify the source of the food they ate (given the long incubation period and fungible nature of the food products involved); and d) the epidemiological methods employed by the CDC in conducting its outbreak investigation were bitterly contested by the defendants.
This, in turn, required an extensive learning curve in the science of epidemiology and extensive study of past outbreaks in order to understand how and whether the CDC's investigation of this outbreak differed from previous outbreaks.
Experts Hired by Our Listeria Lawyers Help Us Win Cases
Federal law prohibits any contact with or testimony from CDC personnel involved in the underlying outbreak investigation. Simply put, we had no access to the people who conducted the investigation on which our case rested. To prove our case, we had to retain the following experts:
microbiologist and expert in MVLST testing
microbiologist and an expert in PFGE testing
animal scientist and plant sanitation expert
sanitarian and plant safety expert
medical epidemiologist
infectious disease expert
maternal and fetal medicine expert
hospitalist and conscious pain and suffering expert
cardiologist
economist
internist.
Issues of fault involving the defendants turned on their knowledge of and compliance with USDA regulations involving food sanitation and safety. This is a complex body of evolving law and regulations that were particularly in flux before and during the outbreak in question.
Federal Regulations Involved in the Case
Not long before the outbreak, the USDA went from an inspector-driven system of plant inspection to one governed by plant-initiated and plant-specific controls based on principles of HACCP (Hazard Analysis and Critical Control Points, SSOPs (Sanitation Standard Operating Procedures) and GMPs (Good Manufacturing Practices). Developing an understanding of these regulatory schemes was necessary in order to evaluate the conduct of the defendants, particularly with regard to the history of administrative enforcement at these plants in the months preceding the outbreak.
For example, both plants were issued a number of NRs (non-compliance reports) by the United States Department of Agriculture – Food Safety and Inspection Service (USDA-FSIS) in the run up to the outbreak. Following the outbreak investigation, both plants were issued the most severe administrative sanction, Notice of Intended Enforcement (NOIE). Learning and understanding this body of administrative law and enforcement was critical in being able to assess and prove fault on the part of both defendants.
Depositions Taken to Obtain Evidence
This litigation involved taking no fewer than 32 liability and damages depositions. The vast majority of these depositions involved highly technical subject matter and extensive preparation. The vast majority of the depositions took several hours apiece and some took place over the course of more than one day. All together, there were several thousand pages of deposition transcripts and hundreds of exhibits.
Alternative Liability
We were not able to prove with certainty which of the defendants' products caused each plaintiff's listeriosis. Difficulty with this crucial element required successful application of the rarely used doctrine of alternative liability. This crucial issue heightened the risk involved in this litigation and required rock-solid world-class science. Our summary judgment brief and reply briefs, together with our statement of facts and exhibits demonstrates the high quality of our advocacy and research on this issue. Indeed, our discovery and deposition strategy was geared toward successful resolution of this key issue. Further evidence of this is the fact that within a few days of the court's ruling in favor of the plaintiffs on this issue, the cases settled.
In an effort to assure application of alternative liability in the state cases and to prepare for the summary judgment briefing, Pritzker attorneys significantly participated in the preparation of the motion for summary judgment in the federal cases; motions in limine in the federal cases; and, because of our expertise in the microbiology and epidemiology of Listeria, helped draft and respond to Daubert motions in the federal cases.
Cause of Death
In addition to the complexities of proving liability for the outbreak, one of the firm's cases involved a highly technical issue involving medical causation. That issue involved whether one or both of the fetal twins died from the effects of maternal listeriosis or whether their deaths were attributable to the mother's age, inherent risks of twin births, use of fertility treatment or the presence of placenta previa.
Both defendants retained highly qualified maternal-fetal experts who opined that listeriosis did not cause the fetal twins' deaths, particularly the second twin who died approximately two months after the mother was first diagnosed. Understanding these issues and effectively combating them required considerable time and research because there were so many factors at play.
Preparation for Trial
This case settled approximately six weeks before trial. Since the trial would have involved scores of witnesses, hundreds of exhibits, and dealt with material that was complex and difficult to present to a jury, an enormous amount of time was spent preparing for trial by the time the cases settled. Pritzker attorneys and staff had contacted numerous witnesses about trial appearances, issued subpoenas for trial, and prepared key family members for trial. We had also begun trial planning with a well-known jury consultant with the National Jury Project who was preparing to test themes, conduct a mock jury and obtain demographic data. Until the case was finally settled, attorneys Fred Pritzker and Brendan Flaherty worked on this case approximately 12 hours per day and had been doing so for several weeks.
Settlement for Listeriosis Wrongful Death
The case involving the death of the fetal twins settled for $3,500,000. The case involving the death of an 81-year-old man settled for $2,700,000. The $3,500,000 settlement was the highest recovery for any victim of the outbreak and is believed to be the highest recovery ever in a case involving listeriosis. The $2,700,000 settlement represents the third highest settlement from the outbreak. Similar cases from this outbreak involving aged wrongful death victims settled for less than $1,000,000. In short, we achieved exceptional results for both clients in their very complicated cases.
Free Consultation with a Listeria Lawyer
Our team of lawyers are the Bad Bug Law Team®. They can help you determine who is responsible for the harm done to you and how best to proceed with a lawsuit.  You can get a free consultation now and talk to a lawyer at our law firm. Read about our $6 million wrongful death settlement against a food company.