Yes, you have the right to sue Costco for E. coli from chicken salad made and sold by Costco if there is sufficient evidence connecting your illness to that product. You may also have a claim against Taylor Farms, the company that supplied a celery and onion blend used in the salad. E. coli O157:H7 was found in a sample of the celery and onion blend, and Taylor Farms has issued a recall.
Your lawsuit can seek compensation for pain and suffering, medical expenses, lost wages and other damages.
Evidence linking your illness to Costco can include:
Epidemiological evidence, including evidence that you ate the chicken salad implicated in in the outbreak discussed below;
Microbiological evidence, including results of tests leading to your E. coli O157 diagnosis.
The outbreak linked to rotisserie chicken salad made and sold in Costco Wholesale stores has sickened at least 19 people in 7 states:
California (1), Colorado (4), Missouri (1), Montana (6), Utah (5), Virginia (1), and Washington (1).
Our lawyers are investigating this outbreak. You can contact our law firm using our free consultation form or  by calling 1-888-377-8900.
Five people have been hospitalized, two of them have hemolytic uremic syndrome (HUS), a severe complication that causes kidney failure, seizure, stroke, coma, heart damage, hypertention (severe high blood pressure), pancreatitis and a host of other problems.
If your child has been sickened, you, as a parent, have the right to sue on your child's behalf, and you may have a claim, also.  We recently won $4.5 million from another company for a teenager who contracted an E. coli infection and developed hemolytic uremic syndrome, a complication that caused renal failure.
The Outbreak Investigation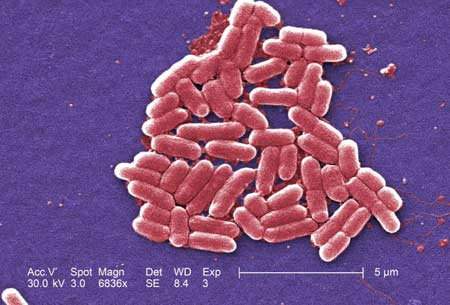 The people sickened in this outbreak (referred to as case patients by the CDC) range in age form 5 to 84. Reported onset of illness dates range from October 6 to November 3, most between October 22 and November 3. The median age for all case patients is 18. Fifty-seven percent of them are female. There have been no fatalities.
On November 20, Costco told public health officials that it had removed all remaining rotisserie chicken salad from all of its U.S. stores and temporarily halted further production.
The Centers for Disease Control and Prevention (CDC),  the U.S. Food and Drug Administration (FDA) the U.S. Department of Agriculture Food Safety and Inspection Service (USDA-FSIS) and public health officials in several states are collaborating on the investigation. They are using the PulseNet system- a national subtyping database,  to identify illnesses that may be part of this outbreak.
Health officials have identified the genetic fingerprint of the E. coli strain but have not yet identified which ingredient in the salad that is contaminated with Shiga toxin-producing E. coli O157:H7 (STEC O157:H7). The ingredients of the salad include rotisserie chicken, seasonings, water, eggs, celery and onions.
Any of these ingredients could be the source. Our law firm has won cases involving contaminated chicken, spices, water and produce. We have won cases involving eggs, also, but those involved a different pathogen.
If you have symptoms of an E. coli infection, abdominal cramps and diarrhea that can be bloody, you should see a doctor immediately.
Symptoms of HUS, usually appear on the seventh or eight day of an E. coli infection, and include pale skin, lethargy, little or no urine output, unexplained bruises, and a skin rash. In some cases, these symptoms appear after somewhat mild E. coli symptoms. HUS is not a mild illness. If you or your child has these symptoms, go to the doctor immediately.