Yes, you can sue if your baby is born with listeriosis and the illness can be linked to a food product tainted with Listeria monocytogenes eaten by the mother while pregnant. These illnesses are preventable with good sanitation and adequate testing, and we want to stress that it is not the mother's fault in any way. Food sold for human consumption should not be tainted with deadly bacteria.
We recently won several million dollars for a little one who was born prematurely and diagnosed with this infection. The newborn was hospitalized for four weeks. His mother had unknowingly eaten a contaminated product when she was pregnant.
Attorneys Fred Pritzker and Brendan Flaherty have won multi-millions for their clients.

"We represented a client who suffered permanent disability because a food company sold a contaminated product," said attorney Fred Pritzker, who won $4.5 million for this client.
You can contact Fred for a free consultation and find out if you can sue on behalf of your little one for compensation and justice.
How Does a Baby Contract Listeriosis from the Pregnant Mother?
A baby can be born with listeriosis when, during pregnancy, the mother eats food contaminated with Listeria monocytogenes. Recent medical research has found that cells of L. monocytogenes can pass through the placenta or via the vaginal tract. In most cases, the infection is transmitted through the placenta.
This deadly infection can be transmitted even if the mother is not showing signs of illness. However, the mother is often running a fever and may be quite ill.
At birth, the newborn may not have any symptoms, but a few hours or days later, and the infant can become severely ill and die.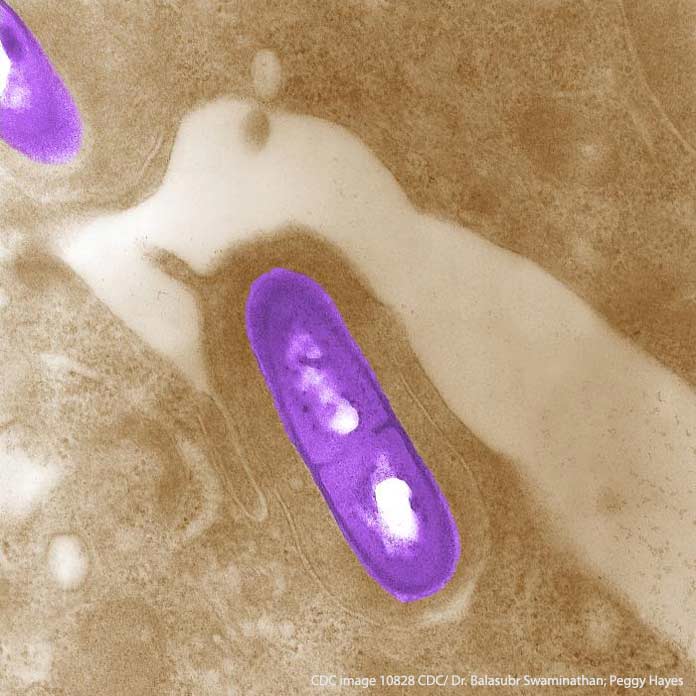 When listeriosis is contracted in vitro, there is often a premature birth, with the newborn having an unusually low birth rate. In addition, the little one is often cyanotic (blue) and flaccid (limp) at birth and may present at birth with any of the following:
Light birth weight
Enlarged liver – hepatomegaly
Enlarged spleen – splenomegaly
Rash – petechia
Respiratory difficulties due to aspiration pneumonia, apparently from infected amniotic cavity
Listeriosis meningitis—may develop several days after birth
Septicemia (sepsis)—a blood infection (blood poisoning) that is often fatal
Cortical visual impairment: lawsuit argues that damage to the brain caused eye damage or permanent blindness.
When this listeriosis is transmitted via the mother's vaginal tract, the newborn usually appears to be fine and even has good Apgar scores, but within a few hours or days, the baby becomes gravely ill.
During pregnancy, antibiotics are given to treat the mother. In most cases of in vitro infection, the antibiotics also prevent infection of the fetus or newborn. Antibiotics are also given to babies who are born with listeriosis; however, these little ones can get severe complications that are difficult to treat. In addition, we know of cases where diagnosis of the newborn was delayed to the detriment of the child.