The Centers for Disease Control (CDC), in conjunction with the U.S Food and Drug Administration (FDA), has since March 2016 been investigating an outbreak of Listeria infections (listeriosis). They have now pinpointed CRF Frozen Foods, based in Pasco, Washington, as the source of this outbreak, which has infected eight (8) people since September 13, 2013. Two people in Washington and Maryland who were hospitalized with the disease subsequently died, although listeriosis is not believed to be the primary cause of death.
Frozen Vegetable Products Recall
According to the FDA and CDC, there have been two recalls of frozen vegetable products by CRF Frozen Foods, one on April 23, 2016, and one on May 2.
April 23, 2016
11 products possibly contaminated with Listeria were recalled (distributed / redistributed between September 13, 2015 and March 16, 2016 in AL, AZ, CA, CO, CT, DE, FL, GA, ID, IL, IN, LA, MD, MA, MI, MN, MO, MT, NV, NH, NJ, NY, NC, OH, OR, PA, RI, SC, TN, UT, VT, VA, WA, WV, WI, and in British Columbia, Alberta, Manitoba, Saskatchewan of Canada:True Goodness by Meijer: 10 oz. Organic Petite Green Peas (UPC:  713733430999; best-by date: 11/26/2017)
True Goodness by Meijer: 10 oz. Organic White Sweet Corn (UPC: 713733430982; best-by date: 11/21/2017)
Wellsley Farms Organic: 4 lb. Organic Mixed Veg (UPC: 888670010136; best-by date: 10/25/2017)
Wellsley Farms Organic: 4 lb. Organic Green Peas (UPC: 888670009970; best-by dates: 2/10/2018, 2/15/2018, 3/17/2018)
Organic By Nature – Canada: 2.5 kg. Organic Green Peas (UPC: 846358000619; best-by dates: 10/22/2017, 12/3/2017, 3/16/2018)
Organic By Nature: 4 lb. Organic Green Peas (UPC: 846358000695; best-by date: 10/25/2017)
Organic By Nature: 5 lb. Organic Green Peas (UPC: 846358000633; best-by date: 2/15/2018)
Organic By Nature: 5 lb. Organic Veg Medley w/ Shelled Edamame (UPC: 846358000657; best-by date: 2/11/2018)
Organic By Nature: 4 lb. Organic White Supersweet Corn (UPC: 846358000701; best-by date: 11/19/2017)
Organic By Nature: 5 lb. Organic White Supersweet Corn (UPC: 846358000640; best-by date: 9/13/2017)
Schwan's: 16 oz. Organic SS Yellow & White Cut Corn (UPC: 007218060433 2B5320)
May 2, 2016
CRF Foods expanded previous recall to include ALL organic and traditional frozen vegetable and fruit products processed in its Pasco, WA plant since May 1, 2014. The comprehensive recall applies to 358 products packaged under 42 separate brands; these products, which include organic and non-organic broccoli, butternut squash, carrots, cauliflower, corn, edamame, green beans, Italian beans, kale, leeks, lima beans, onions, peas, pepper strips, potatoes, potato medley, root medley, spinach, sweet potatoes, various vegetable medleys, blends, and stir fry packages, blueberries, cherries, cranberries, peaches, raspberries, and strawberries, were distributed to all 50 U.S. states and to 4 Canadian Provinces.
 The FDA has issued a complete list of the compromised food products (click here for brand names, UPC numbers, and best-by dates). Brand labels include:
CRF-Branded Products: Bybee's, Columbia River Organics, Northwest Growers Select, Organic by Nature
Canadian-Costco Wholesale: Organic by Nature
Private Labels: C.H. Belt's, Chef Maxwell, Correct Choice, Earth's Pride, Endico, Farmer's Bounty, Fiesta Mart, The Inn, Live Smart, Parade, O Organic, Panda Express, Pantry Essentials, Safeway Kitchens, Signature Kitchens, Trader Joe's, USDA, VIP, Wellsley Farms, JFDA, McCain, Mity Fresh, Mountain Mist, Overhill Farms, Veggie Maria, Life Foods, Emerald Farms, Endico, Great Value, James Farm, Kirkland Signature, Price First, Quirch, Season's Choice, Simply Nature, True Goodness, Wild Oats, Export.
What is Listeriosis?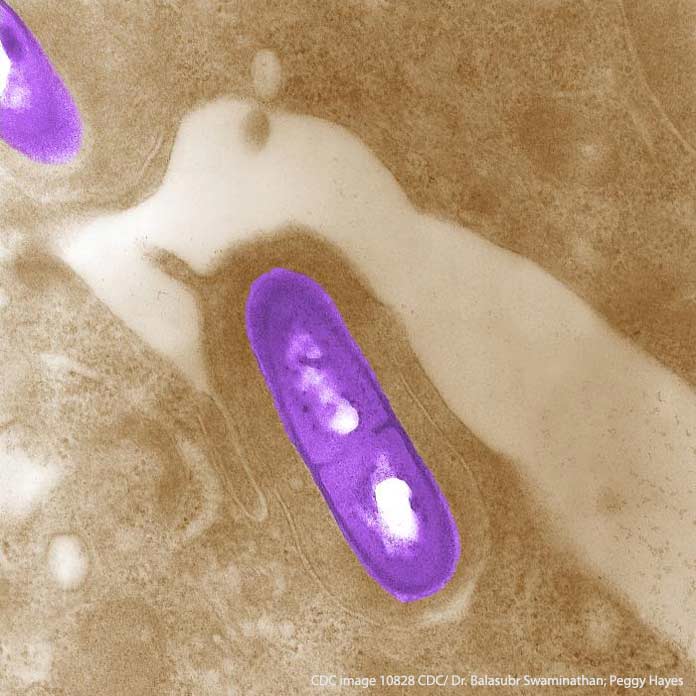 Listeriosis is a dangerous infection that is primarily caused by ingesting food products that have been contaminated with Listeria monocytogenes bacteria. It poses particular danger to pregnant women, newborns, the elderly, and people with weak immune systems. In pregnant women, the infection can lead to miscarriage, stillbirth, early delivery, or infection of a newborn; in immunocompromised individuals, it often presents as Listeria meningitis or sepsis. (1)
Symptoms of a listeriosis infection can include fever, gastrointestinal distress / diarrhea, and muscle aches – and can first occur as long as 70 days after first exposure to the bacteria.
Legal Steps for a Listeriosis Lawsuit
If you or a loved one was diagnosed with listeriosis and there is evidence to demonstrate that it was caused by CRF Frozen Foods, you may have the grounds for a Listeria lawsuit. Medical / DNA tests can reveal whether a contracted strain of Listeria matches one of the strains found in the contaminated food products. Our law firm has successfully represented hundreds of people in multimillion-dollar food poisoning lawsuits, drawing upon a strong network of expert epidemiologists and microbiologists to verify key case facts and evidence.  Attorneys Fred Pritzker and Eric Hageman are our lead lawyers for these lawsuits. To learn more about whether you may have good grounds to sue following a diagnosed listeriosis infection, please contact us for a free consultation (click here).
Source:
"Listeria (Listeriosis)." Centers for Disease Control and Prevention. Web. 20 Nov. 2014.